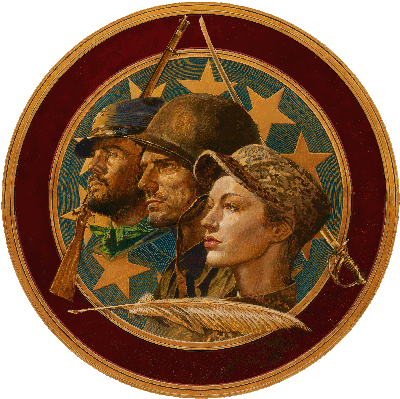 Blog
The Museum & Library is proud to continue guiding the general public through their exploration of military history, military affairs, and national security in greater detail thanks to the Pritzker Military Museum & Library blog. Here, the Museum & Library posts longer form content covering a wide array of events, topics, people, and moments in history. Blog posts are written by staff members of the Museum & Library, partners and friends, as well as authors that take part in or contribute towards programming. Keep the conversation alive by interacting in the comment section of each post!
An American Icon Turns 100!

October 29, 2021 marks the 100th birthday of Bill Mauldin, one of the greatest cartoonists of the twentieth century.

Yom Kippur War

The fourth Arab-Israeli war broke out on October 6, 1973, as most Israeli soldiers were observing Yom Kippur, affording the Arab armies the ability to make impressive initial advances.

Hispanic Heritage Month

The diversity of those who have served and continue to serve in the United States military is incredible and Hispanics and Latino Americans account for a strong part of that population in each branch of the military, at all levels. 

Adaptive Sports for Veterans

One of the ways many veterans cope with their injuries is with the Unites States Department of Defense's (DoD) Warrior Games. It is a competitive event for male and female military service personnel and veterans who have been injured or stricken by illness while in service.

In Honor of Mexican Independence Day

Every September 16th, Mexico celebrates one of the most important days in Hispanic history - the anniversary of Mexico's Independence from Spain.

Commemorating September 11th

As we commemorate the 20th Anniversary of September 11th, the Museum & Library wanted to take a moment to reflect on its impact on a more personal level while also providing a few resources for those interested in learning more about the tragic events that took place that day in 2001. 

Air Force Day

America's successful use of air power in World War II led President Truman to establish Air Force Day on August 1, 1947. 

Happy July 4th

Thinking about the origins of Independence Day and the history of the American Revolutionary period.

Pride Month 2021

This June, we celebrate and honor the achievements of the LGBTQ+ members of the Armed Forces.
Subscribe to Blog